Tour highlights: Explore the south part of Serbia – the incredible Devil's town, a remarkable wonder of nature, lunch and optional use the SPA center of one of the most famous balneo resorts with healing mineral water Prolom banja, taste regional wine in one of the biggest wineries – Malca.
Description: The tour starts from your hotel. After approximately 3 hours transfer (260 km.) you will reach Devil's town – a unique phenomenon of nature, a nominee in the New Seven Wonders of Nature campaign. It features 202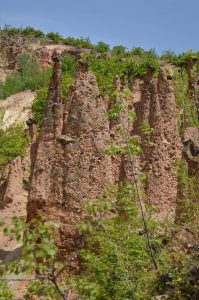 exotic formations described as earth pyramids or "towers", as the locals refer to them. They are 2 to 15 m (6 ft 7 in to 49 ft 3 in) tall and 4 to 6 m (13 to 20 ft) wide at the base. These formations were created by strong erosion of the soil that was scene of intense volcanic activity millions of years ago. Most of the towers have "caps" or "heads" of andesite, which protect them from further erosion. Volatile volcanic history left marks in the multicolored rocks in the towers hinterlands. However, Devil's town/Đavolja Varoš in its modern form is a relatively new feature. As the inhabitants of the surrounding region were cutting down the forests, they enabled for the precipitation to erode the rocks. The area beneath the towers is called The Hell gully (Paklena jaruga) and the surrounding terrain is a location of the mine shafts from the medieval Nemanjić Serbia. A natural spring is located beneath the formations and has a high mineral concentration. There are two springs: Đavolja voda (Devil's Water), with extremely acidic water (pH 1.5) and high mineral concentration (15 g/l of water), and Crveno vrelo (Red Well).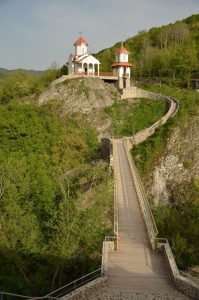 Lunch at Prolom banja – one of the most famous balneoresorts in Serbia. Free time – optional use of the new or the old SPA center with healing mineral water (extra charge) or a short walk (2,5 km.) to Lazaritsa church.
On the way back to Bulgaria – visit to one of the biggest wineries in the region – Malca with included tour and winetasting – 4 types of wine with snacks.
Depart for Bulgaria. In the evening arrival back in Sofia and the tour will finish to your hotel.
Itinerary: This tour starts from your hotel and during the day you will see the natural phenomenon Davil's town, you will have lunch and use the SPA center of Prolom banja and you will have wine tasting in Malca winery.
Starting time: 09:00
Finishing time: 20:00
Duration: 11 hours
Price includes: transportation with vehicle, licensed English speaking guide, entrance ticket to Devil's town, lunch in Prolom banja, wine tasting in Malca
Price does not include: drinks during lunch, gratuities to the guide and the driver (optional)
-entrance to the old SPA center of Prolom banja resort – 15 EUR per person – use of Relax center with sauna, salt room, jacuzzi pool, tepidarium and steam bath (previous Wellness center) + new opendoor/indoor swimming pool
-entrance to the new Welness center of Prolom banja resort – 25 EUR per person
-massages or other procedures at Prolom banja
Price for 1 person: 179,00 euro
Price for 2 persons: 98,00 euro (per person)