Tour highlights: One of the most notable natural attractions on the Balkan peninsula 7 Rila Lakes – The Lower Lake (2 095 m), Fish Lake (2 184 m), The Trefoil (2 216 m), The Twin (2 234м), The Kidney (2 282 м), The Eye (2 440 м), The Tear (2 535 м).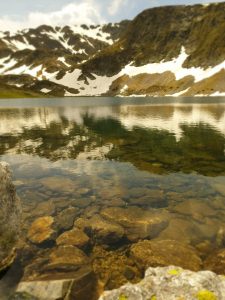 Description: The tour starts with pick up from your hotel with comfortable vehicle. After aprx. 1:30 transfer you will pass through Sapareva Bania. The town is located at the north foot of the Mountain Rila and it is known with his mineral water (103°C) and you can see the only geyser fountain in Bulgaria and Continental Europe. You will have short break to take a photo with the geyser. After 20 more minutes you will leave the vehicle and start to hike the mountain. The first 2 km from the tour you will pass with a sluggish chair lift. After the lift you will start the real hike which will be around 3 hours.  The lakes are situated between 2 100 – 2 600 m. elevation above the sea level. Lakes are situated one above the other with connection of small streams. The Lakes have name for their shapes and qualities.  First lake you will reach is The Lower Lake after that you will continue to Fish Lake, The Trefoil Lake, Twin Lake, The Kidney, The Eye Lake and the Tear Lake. The deepest lake is the Eye – 37 m. The highest lake is the Tear.
Every year on 19th August there is a large gathering of the White Brotherhood or Danovites who celebrate their New Year. For them this mountain is a holy place.
Itinerary: This tour starts from your hotel. You will visit Sapareva bania, then you will take a lift and after the lift you will start to hike the lakes. After you reach the highest lake you will go back and return to Sofia. The tour ends at your hotel.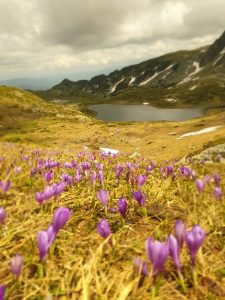 Starting time: 07:30
Finishing time: 19:00
Duration: 13 hours from April till October
Minimum participants: no minimum participants
Recommendations: It is recommended to have warm clothes, jacket and comfortable mountain shoes, water and some sandwiches or sweets.
Price includes: Hotel pick up and drop off, English speaking guide, transport with comfortable vehicle;
Price does not include: Insurance, Return ticket to the lift; Gratuities for the driver and the guide;
Price for 1 person: 150.00 euro
Price for 2 persons: 80.00 euro (per person)